Cheetah Industries, Paso Robles, California, USA 93446 (805) 227-0624 Monday - Friday 9 to 5 PST www.cheetahrodentcontrol.com dana@cheetahrodentcontrol.com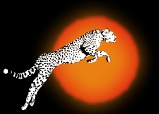 If you can walk there, ride your horse, take your ATV or drive your truck there, Cheetah will be alongside you, with little effort and maximum results.



The Cheetah rodent control machine quickly kills burrowing rodents by capturing carbon monoxide produced by a self-contained two-cycle gasoline engine and blowing the fumigant, under low pressure, into rodent tunnels and asphyxiating the pests.
The fast acting carbon monoxide will quickly fill a large burrow system. Three to five minutes for squirrels and six to eight minutes for large rodents such as prairie dogs and ground hogs.



No poisons, explosives, or chemicals are used. Light weight and portable the Cheetah is very safe and easy to use, weighing only 16 pounds and quiet at 68 decibels.The Cheetah produces over 25,000 ppm of carbon monoxide.
Carbon monoxide is not harmful to root systems. The Cheetah has a long service life, and is built tough to handle rigorous use.
If your rodent lives underground then the Cheetah is your tool to eliminate ground squirrels, prairie dogs, ground hogs, gophers, just about any type of animal.
Ranchers, growers, municipalities, city parks, cemeteries, wineries, and many others are finding the Cheetah valuable in eliminating burrowing rodents. The Cheetah is a top choice by customers to handle rodent control problems on all types of terrain. Simple design, ease of use and high reliability makes the Cheetah a must have machine for anyone looking to knock down a burrowing rodent problem.