If you can walk there, ride your horse, take your ATV or drive your truck there, Cheetah will be alongside you, with little effort and maximum results.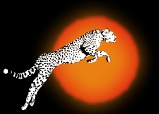 The Cheetah rodent control machine was developed in 2009, and the first machine was sold in August 2010. Since then we have sold hundreds of Cheetahs and our sales have increased over 150% every consecutive year. Over 60% of our sales are referrals from our very satisfied customers.
The Cheetah's 2-cycle engine produces carbon monoxide (CO) which is the lethal gas that asphyxiates squirrels and other burrowing animals. Employing a patented air/carbon monoxide mixer valve, the Cheetah produces over 25,000 ppm of CO and low velocity air (25 CFM).Though our comprehensive testing we have determined the optimum air/carbon monoxide mixture, engine settings and length of time to fumigant a rodent burrow.
Carbon monoxide levels of over 10,000 ppm will kill ground squirrels and gophers in less than two minutes and larger rodents such as prairie dogs and ground hogs in five minutes. The Cheetah blows CO into tunnels traveling very fast at over one foot per second.
Cheetah's four foot long flexible exhaust tube allows the user to easily target entry/exit tunnels, filling the tunnel systems with deadly carbon monoxide gas within minutes. Depending on the type of rodent being targeted, three to seven minutes of gas application is all that is needed to fumigate a rodent burrow complex.
The Cheetah is easy to use and portable, weighing only 16 pounds. It has a deep burrow penetration, and is a cost effective system for dramatically reducing rodent populations.The commercial grade engine is built tough to give years of service and comes with a one year warranty and hundreds of service centers.
Safe to use, the Cheetah uses no explosives, poisons or chemicals.The Cheetah is not harmful to root systems, has a long service life, and is built tough to handle rigorous use. The Cheetah is environmentally friendly and safe for non targeted animals.
Using exhaust gases from a gasoline combustion engine has proven to be an extremely effective and safe means of controlling rodents when the delivery means is properly designed and the Cheetah Rodent Control machine provides just such a delivery.
Cheetah- a new and unique patent pending rodent control machine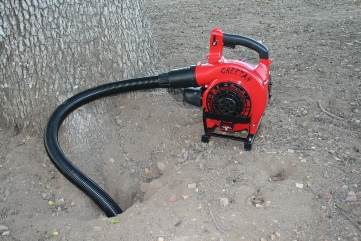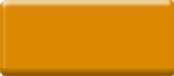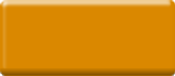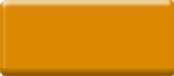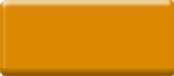 Cheetah Industries, Paso Robles, California, USA 93446 (805) 227-0624 Monday - Friday 9 to 5 PST
www.cheetahrodentcontrol.com dana@cheetahrodentcontrol.com
Operating the Cheetah Safely
The Cheetah Machine is a very safe when used properly.The exhaust gases produced by the engine are dangerous and potentially life threatening. Carbon monoxide produced by the engine is a colorless and odorless gas.
Use only in open areas. Never start or run the engine inside a room or building. Never treat a rodent tunnel that is within 100 feet of a building that is occupied by people or animals.
If there is any doubt that carbon monoxide could enter a building or basement from an underground tunnel, the structures should be vacated of people and animals. Open all windows and doors before gassing a rodent tunnel. Do not reoccupy building for at least thirty minutes.
All people and animals should keep their heads at least 12" from the end of the exhaust tube and any tunnel entrances that may have carbon monoxide coming from them.
Keep children, bystanders and animals outside a 30 ft. radius surrounding the area of operation.
All engines have hot surfaces that could catch dry grass on fire, be aware of this and take appropriate action to keep a fire from occurring.
Important
It is the operators responsibility to check with their state, county and local jurisdictions to make sure which rodents and pests can be taken using CO (carbon monoxide) and ensure that non targeted species are not harmed by carbon monoxide.